Members
Sheila Peterson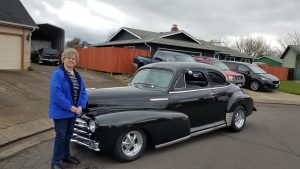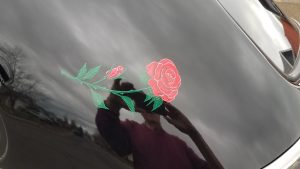 I bought my 1948 Chevy coupe in October 2002. The first thing we did to it was to extend the exhaust out the back of the car because it was stopped right behind the front seat under the car. My car came with a high horsepower with a wild cam engine and a hard shifting drag racing 350 transmission not much of an everyday driver. The guy that built the car as a Hot Rod did some Drag racing with it so we installed a rebuilt Chevy 350 motor from the mechanic shop at Linn Benton Community college . We also installed an Edelbrock 4 barrel intake manifold and mild cam. Mike then installed a 700R transmission in it later that year. We bought the car with the Nova front suspension and Camaro differential all ready installed. I decided we needed an Air Conditioner in the Chevy so Mike installed a Vintage Air conditioner. He also completely wired the car because it had original wiring then installed new gauges and painted the dash shiny black. The next thing we did was install the new interior because it had a very old ugly plaid red interior. In the spring of 2019 I had body work done then painted it a shiny black. Then to finish it off I had pinstriping and a couple of roses painted on.
John & Linda Wood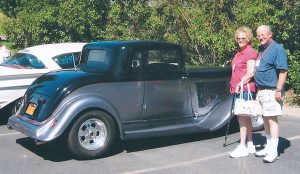 "Somethin' Else"
It was a number of years after I retired from teaching (2007) that I started actively pursuing my dream of building a hot rod, but it had to be – "Somethin' Else."  Ever since high school I had thought the ultimate hot rod would be a '33-'34 Ford coupe with a small block Chevy and 4-speed.  But as more and more fiberglass reproductions hit the road with the vast majority Chevy powered, that thought died.  Why build something everyone else had?  So my new dream couldn't be a Ford, and it couldn't have a Chevy engine.  However, it DID need to have a stick shift!
As a teenager the non-Ford that had caught my eye was a little stock 1933 Plymouth coupe.  The little quarter windows and top that looked like it had been chopped prompted me to look up the owner to see if it was for sale – it wasn't.  But one of the first cars I found on the internet was a 1933 Dodge coupe – and it was only about 60 miles away!
The car was a rolling chassis with the body in primer, but didn't have glass or interior – nor was there an engine or transmission installed.  On the positive side it came with a Mopar 360 engine that was said to have been overhauled, and an 833 4-speed with Hurst linkage and pistol-grip shifter.  A Dodge with a Dodge engine and transmission!  It was also the long wheelbase version at 115" with a hood looked like it was a mile long – a great improvement over the short Fords of that era.
The coupe had been modified with a Mustang II front end and a Ford 8.8" rear end (3.73 gears) with coil-overs and 4-bar installed (including 4-wheel disc brakes), but these needed quite a bit of reworking before I felt they were safe.  Oh, I almost forgot, I also had to narrow the rear end 4 inches as I didn't like the rear tires hanging out past the fenders.  I later installed dropped spindles and big rotors on front too.
While I originally planned to do much of the work on the car, I soon realized that if I wanted it to turn out as nice as I wanted, I'd have to hire the work done by others, and I ended up having many different people work on the car.  But I was the guy who made the decisions.
The 360 the car came with has a mild cam and a lot of "dress-up" stuff that I added, but since I really know little about what was done to the engine I started looking for a Mopar 340.  They were thought of as the ultimate performance Mopar small block as they had a shorter stroke crank and larger bore than a 360. Unfortunately they were rather rare and more expensive than a 360.  I found a guy who had three of them sitting in his garage, but as he was always building new Mopar projects he didn't want to sell one as he felt he might need them.  However, after "bugging" him for a couple of years I got an unexpected call that he was willing to sell one (it was a 1971 engine with forged crank and pistons).  I bought it and started buying parts to build it, then took the block to a machine shop to be cleaned and checked for cracks.  Once that was okay, I gave them the go-ahead to start machine work.  It ended up taking over 2 years for it to finally be finished, but it's finally built and installed.
The 833 4-speed I only kept for one season, then replaced it with a Tremec TKO-500 5-speed for another cruising gear.  I also replaced the rear gears with 4.10s and a posi unit.
I had the exterior painted 2-tone with black topside and gunmetal silver sides and fenders.  It took a great deal of looking at new car sales lots to find the right shade of gunmetal.  It's a 2008 Ford color, "tungsten grey metallic" T8 with clear coat.  The two colors are separated by a 3/16" red stripe that was sprayed first, and then masked before the two colors were applied.
The interior includes red leather upholstery and German loop pile salt & pepper grey wool carpet.  The dash has Auto Meter gauges, and has a sub-panel added under it and set back that houses the "Vintage Air" air-conditioning controls and vents.
The car has about 15,000 miles on it now.  It is driven, not trailered, and has been from Oregon to California, Nevada, Washington, Idaho and British Columbia, Canada.  It's been driven to many car shows and won many trophies, but the top was "Best of Show" at Independence, Oregon in August of 2017.
By the way, the origin of the name "Somethin' Else" is a great 1957 Rock-a-Billy song by Eddie Cochrane of "Summertime Blues" fame.  The title "Somethin' Else" refers to both a girl and a car.  Now with my hot rod AND with my beautiful wife, I've got both – and they're – somethin' else!
Verle & Carol Steele
1966 Ford Thunderbird Town Landau (BluJay)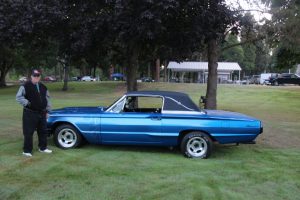 Carol and I bought BluJay in 1985.
We drove it around for a couple years and then it was parked for quite a spell.
Our girls were getting older and we were doing a lot of camping and riding and playdays with our horse club.
We helped re-start the Brownsville Pioneer Saddle Club with several other good friends who had youngsters also.
We were also heavily involved with the Oregon Equestrian Trails horse club. OET was in the middle of a large campaign with USFS and State Parks in Oregon to build horse camps, clear and build trails on State, BLM and USFS lands.
BluJay did not get too much attention during those years.
In 1995, I had to find new employment because the plywood plant I had worked in since 1963 was closed due to the timber industry taking the huge hits from the logging reductions.
BluJay was still in the barn, and there just was no time to play with her.
Shortly after I took new employment in Salem, my administrative assistant and I were talking about old cars. She said her husband was a body and fender man. I told her about BluJay and she told her husband.
My job at the time involved a lot of travel in the state, and also meetings with USDOL and other government agencies involved with dislocated workers. I was on the road a lot.
I talked with my assistants husband, and he said he would be glad to come down to my shop in Brownsville and work on BluJay. (he lived in Jefferson)
Starting around 1998, this worked out well for awhile. BluJay was getting her skin primed and cleaned, and her body was getting toned up.
I would come home from a trip and she was looking better and better.
In the meantime I had also purchased a 2cd '66 T-Bird for parts. The car was complete, but the motor would not run.
Around 2001-2002, BluJay was ready for her final paint. I was very busy traveling, and the body guy said he would like to take both T-Birds up to Jefferson so he could use a paint shop up there to finish the paint, and then utilize the best parts from each bird for BluJay.
He had access to a tow truck and he came down and picked them up.
Beginning in early 2001, I was frequently gone from home with my work with dislocated workers in Oregon, Washington, Idaho, and Northern California.
BluJay became something forgotten. You know, out of sight, out of mind.
When things slowed down around 2003-2004, one day I asked my assistant about BluJay. During this time she and her husband had divorced. She said she would contact him.
A year went by, and finally I said I really needed to talk with him about BluJay. He would not meet with me. I finally said I was going to the law if I did not get BluJay back. Finally found out he had taken her to a shop for the paint, but never paid the shop. By the timeI found out where she was, I was one week away from the shop selling her for the paint charge. As you can imagine, there were some pretty heated exchanges between me and the shop. I still had the title, and the shop still had a lien against the car. I had to pay for a paint job that I had already paid for. She was one week away from me losing her.
I was pretty discouraged by this time, and when I got her home, I just blocked her up in the corner of my shop. The parts t-bird car was gone, I have never tried to find it. Bumpers were missing, and the paint that was on her had never been cut or polished.
She sat in my shop til 2011. My 50th class reunion was coming up in 2012, and my buddy Ron said we should get BluJay ready for the reunion.
He helped me get her running again. I took her down to Donny's in Brownsville and he repainted her and put her back together just in time for the reunion. She still needed a lot more tlc, but she was running.
As far as I know, she has the original 390 engine. We have added a Holley 650 double-pump, and have installed a custom-built exhaust with electric exhaust cutouts, and air shocks on rear. The wheels are from the '60's era. The interior is original. A little worn, but so am I.
Verle
Dave Faller
Story of Betty, my 1937 Chevy Pickup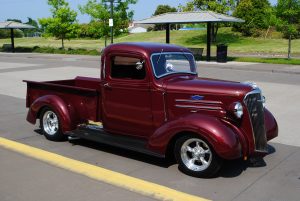 I purchased this 1937 Chevy 1/2 ton pickup in August 2011. It has gone through a total frame – off restoration and has been nicely modified. The only thing that is stock is the body, fenders and bed box which are all steel. Power comes from a brand new ( 2004 ) Chevy crate 350 Cu.In. engine that has been nicely 'warmed' with roller rockers ( 2006 ) , Edelbrock Performer RPM aluminum heads, Edelbrock Performer RPM aluminum intake manifold, a Holly 650 Double Pumper carburetor w/ electric choke, large electric fuel pump, MSD electronic ignition, 100 amp polished alternator, Walker Radiator, Lokar linkage and headers running out through Dynomax Mufflers & 2" dual exhaust with 18" long 3-1/2" chrome exhaust tips. Current H/P prox. 475. A new starter was installed in 2011 and a new battery was installed in 2012. It has a real cool sound, especially with the roller cam creating the rough loping idle. The transmission is a Turbo 350 with transmission cooler, the front end suspension is Mustang II with power disc brakes and the rear end is a Ford 8" ( '67 Mustang ) posi-traction with power drum brakes. The truck has P/S and P/B, but does not have a heater or A/C, but these will be installed in 2020 as all plumbing and vents are in place. The interior has been redone complete with new Classic gauges, SunPro 8K Tach in 2013, a tilt steering column with a 'Billet Specialties' upholstered steering wheel, Lokar accelerator pedal, and Lokar emergency brake lever. The interior has gone thru a total re-do by "Larry's Upholstery" of Albany in 2013 and includes "Bowtie" emblems on the seats and door panels with approval from Chevrolet. The carpeting was imported from the Mercedes Plant in Stuttgart, Germany. Interior battery shutoff installed in 2013. The truck has 'Frenched Tailights'. Sound is provided by a new Kenwood AM/FM stereo and CD changer with remote and 4" 'Boston' speakers ( 2012 ) in the front kick panels, and 6"x 9" 'Focal' speakers behind the seats ( 2013 ). The front & rear fenders were removed, undercoated and repainted in 2011. The wheels are 15" 'Eagle Alloy' and the color of the truck is Dark Toredore Red. The pickup bed is solid Teak. The P/U box was removed & repainted in late 2014 as well as the teak bed being re-stained with 5 coats of automotive clear. This little pickup is quite fast and a blast to drive. Since I purchased the truck, I have redone about 75-80 % of it to get it where I want it to be.
Owners: David & Linda Faller, Albany, Or.
Dale Newcomb
               Lebanon Oregon
53 Ford Coupe named "OldBlue"  Dale says he's owned two of these cars thru out the years and sold one long ago. While searching for another he found this one at the Corvallis swap meet 15 years ago. He says this one is never to be sold at any price at any time.

Lou DuPuis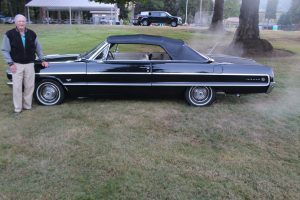 Jim Stinson
Jim's 66 Impala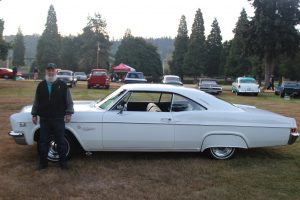 Jim purchased our 1966 Impala from our daughter, Brenda. She had made improvements on the car herself. She installed a 396 CID engine and had it bored to 402 CID and internally balanced. When the car needed a second new transmission Brenda became disinterested and it sat in our backyard for awhile. Jim finally asked her what her plans were for the car. He offered to buy it and finished the transmission work. Jim is quite proud of the fact that his daughter did most of the mofificaitons to the car. Relatively recent additions of exhuast cut outs and fender skirts make it look lower and longer and certainly sound louder. Jim has become familiar with the little quirks of this 53 year old car. She prefers non-ethanol gasoline so that is what she gets. No matter that it is the most expensive gasoline and that she gets less than 10 miles per gallon. Go figure. Jim decided that adding fender skirts would make her look cool so that is what she got. He investigated the expense and found that it would cost a mere $200.00. That did not last long however. When he tried to install the skirts he found that they would  not fit with her oversized tires. His $200.00 project quickly became a $1100.00 one. Most classic car owners will have a similar experience to share. Soo-o-o- why do we continue to love our classic cars? Because they are so much fun!
Sheila Peterson
Sheila Peterson's  1948 Chevy Stylemaster
Equiped with a chev 350 for the powerhouse, and 700R4 transmission
Sheila Say's  "I've had this car since 2002 during this time I have added
New interior,rewired entirely front to back, added air conditioning".
I recently touched up the minor dings and dents you get thru the years
and had a complete re-paint Now just the pinstriping is all that 's left and
I will have my dream car…